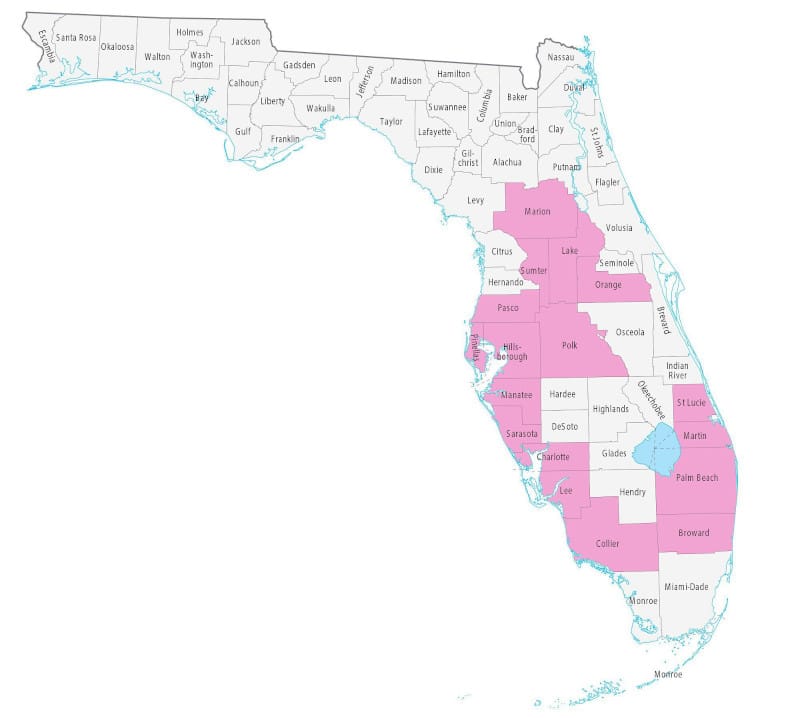 Window Cleaning in Eastern & Western Florida
When you sit back to enjoy the view from inside your home, you're supposed to look through the windows, not at them. Dirty, foggy windows make your home look dull, dark, uninviting, and unattractive. There's no question that window cleaning is an essential service for any homeowner. It not only helps to keep your property looking its best, but it also helps to maintain the value of your home.
At Sabrina's Window Cleaning , we believe in providing a streak-free window shine. With over 30 years of experience, we are Florida's most recommended window cleaning company.
We provide cleaning for all types of residential windows in the counties and cities listed below.
You Can Depend on Sabrina's for Any Size Job
Window cleaning is an investment that should be made regularly. No matter how dirty your windows are, Sabrina's Window Cleaning team is ready to handle the job. Both inside and out. We are a true one-stop shop. With our professional Window cleaning in Florida you will:
Get an unobstructed view of the outside
Remove dust and debris that can cause friction on window glass
Improve natural lighting, which can help lower energy costs
And more!
Also, we know how to clean windows safely. We always consider the type of window you have (single or double). And the height of the window from the ground.
At Sabrina's Window Cleaning, we believe in delivering quality service. When you open your blinds, our goal is to make sure the sun shines through. And we want to ensure you are 100% satisfied when the job is done. As a family-owned and operated business, we know the importance of getting a job done right the first time. It's one of the reasons we promise to ensure the quality window cleaning work at your home is the same as we would have in our own.