Pressure
Washing Services
It is very important to keep the exterior of your home clean. Our pressure washing & pressure cleaning services in Florida helps keep exterior components such as sidewalks, driveways, mold, decks & roofs in good shape. It prevents premature aging, which reduces maintenance and saves you money.
Whether your home is made from vinyl siding, stucco, brick, or stone, pressure washing is an essential step to keeping your home looking great. We do it all. We can pressure wash: Concrete, Sidewalks, Driveways, Wood Decks, Brick, Stucco, Tiles, Roofs, Gutters, Mobile Homes, Boats, RV, Trailers, Sheds, Pools, Parking Lots, Decks, Siding, to name a few.
Soft washing is a safe, effective and smart way to renew and refresh your home or business. Pressure washing can be destructive and can damage the surface you are trying to treat. It can even void your roofing warranty if done incorrectly. Soft washing kills micro-organisms at the root that might be living on your exterior.
Home Pressure
Washing Services
Your home will continually grow in value with proper maintenance while being a source of pride for you and your family. Because homeowners are unsure of the proper materials to use or unable to find the time to do the job safely, exterior house washing is often overlooked and neglected. At Sabrina's, we provide home pressure washing services to homeowners who wish to restore and protect their greatest investment – their home.
Keeping the exterior of your home clean can do more than just make your house more appealing. It can also increase its value and extend the life of the products used to cover the outside of your home, which can save you thousands of dollars in repair costs. House washing services are very affordable, especially when you consider the benefits of pressure washing your home in terms of future savings for home maintenance.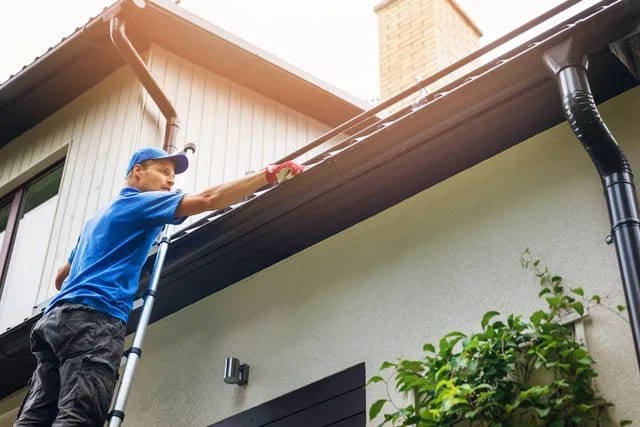 Benefits of Home Pressure
Washing Services
While pressure washing your home is very cost-efficient, it is also important that you understand the correct methods in cleaning your home's exterior and why it is better left to a professional cleaning contractor.
You can certainly attempt to power wash your home yourself, but If you do not have the proper equipment, know which cleaning products are right for the job, or know how to safely operate a power washer without causing damage to your home, it may be in your best interest to hire a licensed and insured cleaning contractor instead.
Although labor-intensive, cleaning your home's exterior is not difficult. However, if done incorrectly, it can certainly cost much more than what you initially tried to save by doing the work yourself.
This also applies to hiring someone to do the work that is not qualified. Just because someone owns a power washer doesn't mean they are a trained professional. It is important for you to hire a punctual pressure washing contractor, thoroughly explain their methods, show you pictures of work that they have completed, and have documented referrals to back up their claims of being the best. This assures that your home will be cleaned correctly and without damage, providing beautiful results.
At Sabrina's, you can rest assured that our seasoned trained professionals know exactly what they are doing and can view some of our work in our gallery section.
Deck Pressure
Washing Services
Wood Decks are a low-cost way to add value & entertaining space to your home. It has become a very popular home improvement item; however, like all wood surfaces, to get the maximum life out of your deck, it needs to be properly maintained. With the harsh elements of the environment such as sun, rain, humidity, to just name a few, it is critical to have your deck cleaned, sealed, and maintained on a continued basis. If such a process is not put in place, your investment quickly goes out the door as it deteriorates due to dirt, mold, & algae, gradually tearing apart the surface of the wood.
Avoiding this scenario can easily be achieved with Sabrina's Deck Pressure Washing Service. Our service provides you with a professional deep cleaning allowing you to easily now apply a quality grade deck staining/wood deck sealing product that will protect your deck for years to come.
Benefits of Deck
and Stucco Pressure Washing Services
Mold, rot, & cracks can creep up on your deck, weakening its overall structure until it eventually needs to be replaced ---costing you thousands of dollars. Keeping your deck clear of hidden mildew and rot is one of the most effective steps to preventing deck damage over time, as rotting wood is damaged much more easily.
By having a regularly scheduled cleaning, you can be worry-free, knowing that you will enjoy your deck for years to come.