West Palm Beach Window Cleaning Experts
We want to make one thing perfectly clear…YOUR WNDOWS!!
Our professional team prioritizes the care of your property from start to finish when handling your windows and exteriors. Request a complimentary quote by filling out our form.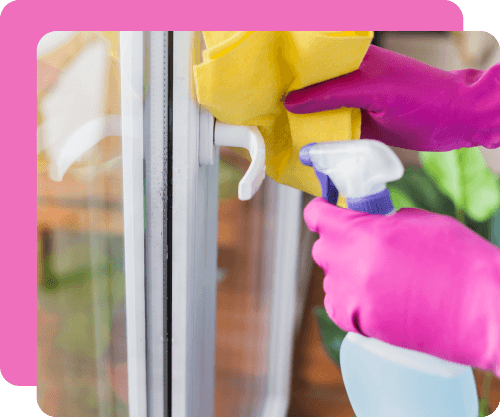 Window cleaning service in West Palm Beach, FL
Sabrina's has been a proud provider of superior window washing services in the neighborhood since 1989. Our experienced technicians have over 25 years of experience, ensuring exceptional results every time. We treat your home with the highest degree of care and attention to detail, leaving no streaks or spots on your windows. Our team always wears shoe covers and uses drop cloths to keep your home clean. We offer a complete range of services to meet all of your window washing needs and are committed to your satisfaction. Enjoy the effortless beauty of sparkling clean windows by hiring Sabrina's!
Our mission is to provide exceptional service that exceeds expectations with each job we complete. We understand the unique needs of both residential and commercial properties and tailor our services to meet those requirements. Window cleaning is not just about the glass, and we take special care to remove any dirt, cobwebs, or deceased insects from screens, tracks, and sills. If hard water or rust stains are a problem, we offer these services at an affordable price. Our satisfaction or money-back guarantee applies to all jobs, no matter the size. Our knowledgeable staff takes care of the tedious tasks, so you can relax and enjoy your space with no effort. Contact us today for a free quote.
Pressure washing service in West Palm Beach, FL
When it comes to cleaning your house, the exterior is often overlooked. It can be a time-consuming and costly task if done incorrectly. Don't take the risk of attempting to do it yourself or hiring an unqualified third party. Instead, trust the knowledgeable and family-run team at Sabrina's. Our services go beyond just cleaning windows; we collaborate with experienced pressure washing specialists to revitalize your decks, roof, and other outdoor surfaces. With over 25 years of industry expertise, our experts have the skills and knowledge to deliver exceptional results on time. Doing it yourself can result in costly restorations for your home. We take pride in our dedication to each job, attention to detail, and commitment to excellent customer service..
Cleaning the outside of your house can do more than just make it look better. By doing this, you could end up saving thousands of dollars on maintenance fees and raising the market worth of your house. Additionally, it might lengthen the useful lives of the components used to fortify your house's exterior. When you take into account the advantages of pressure washing your home in terms of possible future savings for home maintenance, house cleaning services are very affordable. From Concrete to Sidewalks, Driveways, and Wood Decks we've perfected our process and use only the safest products for the longevity of your property. Brick, Stucco, Tiles, Roofs, Gutters, Mobile Homes, Boats, RV, Trailers, Sheds, Pools, Parking Lots, Decks, Siding are just a few things that we're experienced in pressure washing. Contact us right away for a free estimate, fill out our contact form.
Why Choose Window Cleaning
Services from Sabrina's?
What makes us the best!
Well-trained technicians take pride in providing you with the highest quality window cleaning services
Customer satisfaction guarantee or your money back
Flexible appointments to accommodate your schedule
Top-notch customer service
We also offer a full list of services to cover your needs:
Window cleaning services
Pressure washing and pressure cleaning
Gutter cleaning
Shutter installation and removal
Indoor cleaning of fans and mirrors
Home detailing
Sabrina's Window Cleaning remains a family-owned company. Our family works hard to create a wonderful experience for our customers. To learn more about our services or schedule an appointment, call us today!
FAQ about Sabrina's Window Cleaning
in West Palm Beach
We use a special blend of chemicals which we mix ourselves. This way, your windows can get the shine that you've always wanted. For more details about the products we use, give us a call!
We recommend customers to have professional cleanings done at least twice a year.  However we are flexible and are happy to create a schedule that works for you and your needs, whether that be just once or as often as you like. Send us a message to get started!
Our services are available on Saturdays from 9:00am to 1:00pm, but we are closed Sundays. We are available during some holidays, but it's best to give us a call or shoot us a message so we can work it out with you. 
We take care of moving furniture and preparing our work sites, however if there are any pieces of furniture or other things of sentimental value, it's best to move them away from the areas ahead of time.  We take extreme care with every job, but we carry hefty insurance just in case!